Hospital escape prisoner Andrew Farndon in court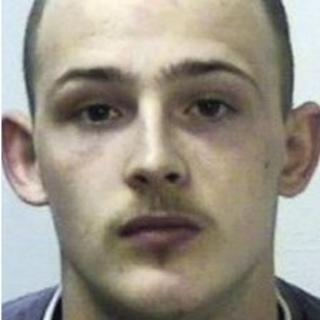 A prisoner who escaped when guards taking him to hospital were threatened at gunpoint has appeared in court after his arrest in New Cumnock, Ayrshire.
Andrew Farndon, 26, who made off at West Suffolk Hospital, in Bury St Edmunds, on Wednesday appeared before Ayr Sheriff Court.
Also appearing were Karen Legge, 44, Alan Hornall, 33, Garry Cowan, 43, and a 16-year-old boy.
All were charged with offences connected to the escape.
Ms Legge and Mr Hornall, of New Cumnock, Mr Cowan, of Peterborough, and the boy were charged with attempting to defeat the ends of justice.
Mr Farndon, of HMP Highpoint and originally from Coventry, was charged with contravening the firearms act, the road traffic act and criminal law in Scotland.
They were all "committed for further examination", said a spokesman for Ayr Sheriff Court.
Mr Farndon was being taken with a knifewound to the hospital's accident and emergency department when he escaped.
He had travelled from HMP Highpoint in a taxi, accompanied by the two guards.