Wolfson Fund selects two Suffolk churches for grants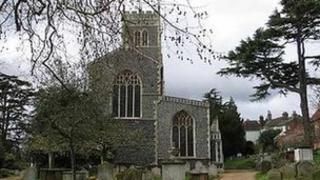 A special grant has helped a Suffolk church reach its £20,000 target to repair its roof after coping stones fell off two years ago.
Tuddenham St Mary got £5,000 from The Wolfson Foundation charitable organisation.
Along with St Mary's, Woodbridge, it was one of two Suffolk churches among a group of 39 in England which got restoration grants from the charity.
The Church of England helps parishes to apply for money for heritage projects.
Kathryn Parker, church warden at Tuddenham near Mildenhall, said: "It was a very generous donation by The Wolfson Foundation and the work can be carried out this summer.
"Because of the danger of more stones falling off, the end of the church had to be fenced-off and a new temporary path was created between the gravestones, but it hasn't been easy for coffin-bearers and visitors because the ground isn't very level there.
Crumbling tower
"Once the work is complete, we'll be back to normal."
St Mary's in Woodbridge is trying to raise £177,000 for repairs to its crumbling tower.
It has got £130,000 so far and a Friends of St Mary's group has been set up for the final push.
Nick Cotton, fundraising co-ordinator in Woodbridge, said: "Grants like the Wolfson one are absolutely critical to taking us forward.
"It's a beautiful Grade I listed building which dates back to 1450 and it's not just about our congregation, it's about people in the community that use the church for baptisms, weddings and concerts.
"We've got at least two agnostics, or even atheists, on our committee who recognise that [the church] is part of the community."