Suffolk Police flies rainbow flag for equality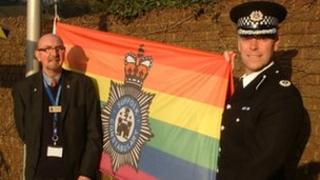 Suffolk Police is flying a rainbow flag at its headquarters in Martlesham to mark Lesbian, Gay, Bisexual and Transgender History Month.
Assistant Chief Constable Paul Marshall said it "shows how, as an organisation, we are inclusive and embrace diversity within our workforce".
The flag will also be flown at stations in Bury St Edmunds and Lowestoft.
Ipswich Town Football Club will fly a rainbow flag ahead of the team's match with Cardiff City on 18 February.
For one week, the rainbow flag will replace the police force flag which is displayed daily apart from on designated days when the union jack is flown.
Mr Marshall said: "It demonstrates our commitment to equality - and our aim to provide an effective policing service to everyone in Suffolk, regardless of their age, disability, gender, religion and belief, race, sexual orientation or gender identity.
"And it reflects our commitment to tackle hate crime in all its forms, sending a clear message to victims that we are here to support them - and to offenders that their crimes will not be tolerated."