London 2012: Teenagers picked for opening and closing ceremonies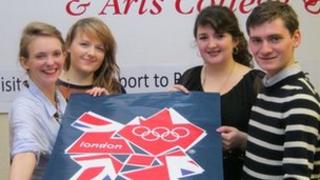 Five teenagers from Sudbury are to perform at the opening and closing ceremonies of London 2012.
They impressed at two auditions, but do not know what they will be doing for artistic director Danny Boyle.
The Oscar-winning director's opening ceremony is called Isles of Wonder and is about a land recovering from its industrial legacy.
Alexandra Ewing, 18, said: "I've no idea what I'm doing or what I'm going to be wearing."
The opening ceremony on 27 July will cost £27m and will take place in front of 80,000 within the stadium and an estimated global audience of one billion.
It will feature a 27-tonne bell but other details are scarce, even for the performers who have been asked not to disclose where the auditions took place.
"All I know is when the rehearsal dates are and where the location is," said Ms Ewing.
Chris Badrick, an 18-year-old student at Sudbury Upper School where all the teenagers studied, said he "screamed slightly" when he was told he would be performing at the ceremonies.
"It was overwhelming," he said. "It's an unmissable opportunity."