Lavenham man's mock speed camera 'slows drivers down'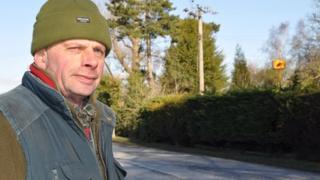 A man who erected a mock speed camera claims it is making drivers slow down close to an "accident black spot".
Alan Fayers painted an old projector yellow and positioned it facing traffic heading to Lavenham, from Sudbury.
He said he took matters into his own hands after failing to convince authorities to extend the nearby 30mph zone to cover his pet supplies shop.
Suffolk Police say speeding in the area is not a "major issue", but confirmed Mr Fayers is not breaking the law.
"[But] I don't think the police understand how dangerous it can be," said Mr Fayers.
He said there had been 17 accidents in the past 14 months on the stretch of the B1071, where national speed limit restrictions apply.
However, only a couple have been reported to the police, he added.
"It's been an ongoing problem for a number of years," he said.
"The police are able to do very little, because they just can't spare the time to check the road.
"[So] I happened to find this old projector, a box with a lens on it, painted it yellow and put it on a stand," he said.
"It's a psychological thing more than anything, I think people have taken it to be a proper speed camera.
"Cars have slowed down because their natural reaction is 'there's a camera there' - they've slowed up quite considerably."
Suffolk Police said they were aware of Mr Fayers' concerns and his homemade camera.
PC Enise Howe, from Babergh West Safer Neighbourhood team, said: "It is on private property and is not in breach of any law.
"We have done previous speed assessments on this stretch of road and found that speeding is not a major issue."