Suffolk County Council axes 15 senior posts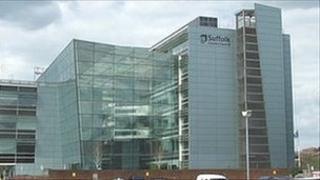 Fifteen higher management posts are being cut at Suffolk County Council, saving £1.15m a year.
The local authority said three assistant directors and 12 other senior managers would take voluntary redundancy, between April and October.
It said their roles would be covered by reorganisation of existing posts.
The Conservative-run council has agreed to save £50m over the next two years and freeze its element of the council tax in 2012-13.
Mark Bee, council leader, said they would "preserve the front line services" in the face of a 28% reduction of government funding.
"We're using more joined-up services across the authority and in doing that we can ensure the same provision of service is done," he said.
"We're in an era where the government is taking away an awful lot of the burden of reporting back and targets, which in the past had been part of the bureaucracy of councils like Suffolk, and we're now free from that and therefore able to look at having less people in the back office.
"We're looking at whole new ways in which we can run Suffolk County Council because of the financial pressures we have and we've got to think imaginatively and about partnership-working."
A spokesman for the government's Department for Communities and Local Government said: "The local government funding settlement is fair between different parts of the country and has been limited to [a cut of] 2.37% for the coming financial year for Suffolk.
"Funding is being directed to where it is needed most so councils can protect the front line services people rely on, shield the most vulnerable places, safeguard the most vulnerable people, and protect taxpayers' interests."