Suffolk councils owed more than £240,000 in parking fines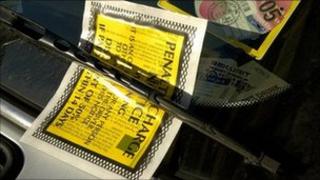 More than £240,000 in unpaid parking fines was owed to councils in Suffolk at the end of 2011, a Freedom of Information request has revealed.
Ipswich Borough Council was owed the most of the six local authorities that disclosed figures - £141,476 from a total of 1,874 unpaid tickets.
The figures showed repeat-offenders were proving costly, with one individual owing £1,035 from 23 fines.
Waveney District Council said it was unable to provide figures.
Labour councillor Philip Smart, transport portfolio holder for Ipswich Borough Council, said the figures, taken on 10 January, did not highlight a serious problem.
"It includes tickets that have only just been issued in the past week or so," he said. "The vast majority of those are paid within a short time.
"It's not an outstanding debt that stays with us forever - it is paid off."
'Rigorous measures'
St Edmundsbury Borough Council was owed the second highest amount - a total of £38,150 as of 31 December 2011.
Conservative councillor David Ray, portfolio holder for finance, said: "I don't really regard it as a problem at all.
"Parking fines are retrospective payments - you don't pay up-front, like buying a ticket from a machine when you park - so there's always going to be a slight backlog."
Mr Ray said the council's process for collecting payments was "rigorous" and usually effective.
"We give people reminders and normally people pay on being reminded, but in exceptional circumstances we will take people to the magistrates' court and they will find their costs go up considerably," he said.
Babergh District Council was owed £1,035 by one individual who received 23 fines for failing to display a valid parking ticket.
St Edmundsbury had a similar case, with £1,170 owed by one person for 22 offences, and Ipswich Borough Council owed £1,515 by an individual for 19 penalty tickets.
A total of £240,258 was owed to the six local authorities.
Mr Smart said he did not think councils needed more power to punish offenders, but said it would be good to have a "system that ran a bit more smoothly and turned cases around a bit quicker".