Website charts history of Lakenheath medieval paintings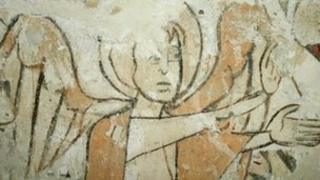 The results of the restoration of paintings dating back to the 1220s are being displayed on a new website.
The paintings inside Lakenheath's St Mary the Virgin church were discovered in 1864 but had been damaged by leaks in the roof and a build up of dirt.
Project manager Matthew Champion said he hoped the website would encourage more people to visit the paintings.
He said: "They were originally made for the local people to view and we want to ensure that they remain that way."
Mr Champion said the handful of paintings, which show local saint King Edmund and scenes from the life of Christ, are now considered to be "one of the finest collections of wall paintings in the country".
Some of the images required lime slurry to be injected behind them due to fears they were coming away from the wall.
The £54,000 restoration programme was carried out in 2009.
The Lakenheath Wall Paintings website charts the history of the paintings and also has illustrations of how they might have appeared originally.