Charles Dickens gets Bury St Edmunds Society blue plaque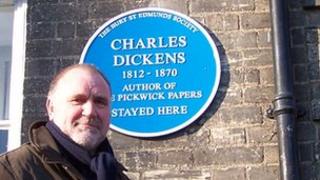 A Suffolk town is marking the 200th anniversary of the birth of Charles Dickens by commemorating his visits with a blue plaque.
The author stayed at the Angel Hotel in Bury St Edmunds in 1859 and 1861 and gave lectures at The Athenaeum.
The plaque has been put on the front of the hotel on Angel Hill by the Bury St Edmunds Society.
The society said Dickens probably visited the town in the 1830s as he set part of The Pickwick Papers there.
The society is unveiling its first blue plaques this month and six more will go up in the town centre.
Martyn Taylor, co-ordinator for the society, said: "We were looking at ways of expanding the awareness of the history of Bury St Edmunds and it's an eclectic mix of people.
'Rampacious animal'
"Dickens is the most nationally-known one but I wouldn't say he's the most important one in Bury St Edmunds's history.
"It should help tourism."
The society is also putting up plaques to author Norah Lofts, architect Lewis Nockalls-Cottingham, the artists Sybil Andrews and Rose Mead, diarist and alderman James Oakes and the cellist Frederic Gershom-Parkington.
However, The Angel is not the only Suffolk hotel with a claim on Dickens.
In 1835, the author stayed at the Great White Horse in Ipswich while he was reporting on the general election for the Morning Chronicle.
Dr John Blatchly, Ipswich local historian, said: "He was extremely impressed, not only by the fine building, but he loved the horse [above the door] which he called a 'rampacious animal'.
"Dickens also said that he used all his experiences of staying in Ipswich for The Pickwick Papers.
"The sadness is that it isn't a hotel anymore and the 'ill-carpeted corridors and tiny rooms' have all gone."