Suffolk Punch horse returns to Somerleyton Hall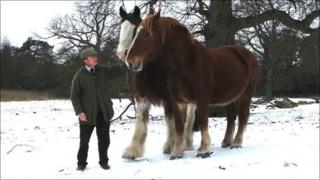 A Suffolk Punch rare breed horse has returned to his birthplace at a stately home after a 15 year gap.
Saxon was given to the RSPCA in the Midlands and, after a check of his records, he was offered back to Somerleyton Hall near Lowestoft.
He had originally been sold by the estate when he was a yearling.
Edward Knowles, estate manager, said: "When he came off the lorry, he walked round into the stable yard like he knew where he was going."
Saxon, who is nearly 18 hands high, was handed in to the RSPCA from a stud farm.
Mr Knowles said: "We got in touch with the RSPCA and said we'd be willing to give him a home back here.
"We've still got his mother, Waveney Pandora, and in the spring we'll probably reunite them and it'll be interesting to see if they recognise each other.
"I've ridden him and he's a nice character and he gives a lovely ride, so we'll probably use him at the Fritton Lake stables here for people to go for a ride."
Somerleyton Hall said Saxon will also join another Suffolk Punch called Pablo and the three horses will be used for wagon rides and ploughing competitions as well as being used for farm work including haymaking.