New £300,000 flood defence announced for Kirkley Stream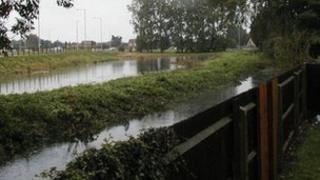 A £300,000 flood defence scheme has been announced for the Kirkley Stream near Lowestoft.
Defra is providing the grant and has also given money to ongoing projects in Suffolk, including £3.5m in Ipswich and £2.8m in Felixstowe.
The projects will be carried out by the Environment Agency.
Richard Houghton, the Environment Agency's flood risk manager for Suffolk, said: "It's good news for Kirkley and the whole of Suffolk."
Mr Houghton said heavy rain at Kirkley Stream can quickly lead to flooding.
"In 2006 a number of properties got flooded and we estimate there's something in the order of 80 properties at risk," he said.
"To have this money should enable us to make a significant difference in reducing the flood risk for the property owners."
Mr Houghton said the details of the scheme would not be known until a survey was completed but expected work to begin in December 2013.
In Ipswich, £3.5m was awarded by Defra to continue work on the barrier scheme which is designed to protect the centre of the town from the North Sea tidal surge.
Suffolk Coastal District Council will be able to complete its defence work in Felixstowe with the help of a £2.8m grant.
Mr Houghton said other projects in the county would also benefit from the funding announcements.
"We've been given something in the order of £2m of what we call recondition money, which is used to bring our existing defences up to the standard they need to be at," he said.