Bury St Edmunds jeweller murder inquiry: reward offered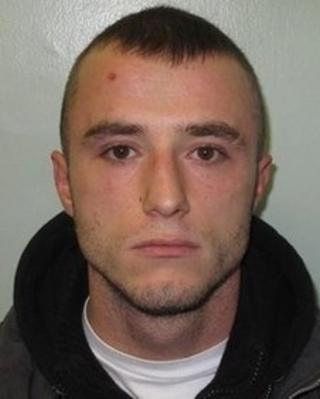 A reward of up to £5,000 is being offered in the murder investigation into the death of a jeweller in Bury St Edmunds.
The body of Peter Avis, 66, was found on 13 January above Collis & Son in Abbeygate Street.
Officers want to speak to Polish man Pyotr Melaniuk, 28, who they believe has contacts in north London.
The reward for information leading to his arrest is being offered by Suffolk Police and the Crimestoppers charity.
Mr Melaniuk is also thought to go by the names Irek Marciewicz, Pyotr Kelaniuil, Kamil Wislak and Ireneusz Melaniuk.
The two middle fingers of his right hand above the knuckles are missing, as is the thumb from the same hand, he has tattoos on his hands and a spider tattoo on his right arm.
Det Spt Julian Gregory said: "I hope that the reward of up £5,000 will be an incentive for anyone who knows where he may be to make contact with us so that we can locate this man."
The police are advising anyone who thinks they have seen Mr Melaniuk to call 999 rather than approach him.
Three men have been charged in relation to the death and a further six men and women have been arrested and questioned.