Ipswich jewellers raid: Axe gang guilty of robbery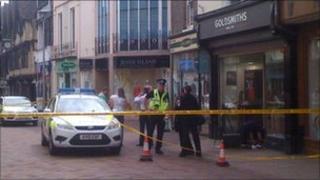 Three men have been found guilty of conspiracy to rob a jewellers in Ipswich town centre last year.
Watches worth £80,000 were stolen from Goldsmiths on Tavern Street in June when the gang used a sledgehammer and an axe to smash a window and counters.
The three, who are from Essex and London, were found guilty after a trial at Ipswich Crown Court.
They, along with two other men who pleaded guilty last year, will be sentenced at a later date.
Danny O'Bryan, 22, of Bulphan in Essex, Charles Onyemelukwe, 24, of Camden in London, and Benjamin Murphy, 26, of Loughton, Essex, were found guilty this week.
Last year, two men from London - George Paget, 19, and Dean Armstrong, 20 - pleaded guilty to the same charge.
Suffolk Police said three vehicles and two motorcycles were recovered which provided valuable forensic evidence used in the case.
Det Sgt Darren Bruce said: "This was a violent robbery that was carefully planned and executed by the offenders.
"I'd like to thank all those witnesses, including the shop staff and member of the public.
"Their support and assistance certainly helped us in reaching this result."