Ipswich Town Football Club council rent dispute settled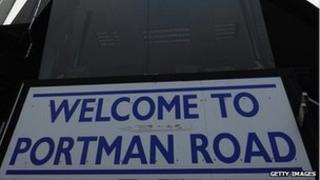 A £650,000 rent dispute between Ipswich Town Football Club and the borough council has been settled.
The club faced the bill after an independent assessor ruled rent charges at the council-owned Portman Road site should rise from £15,000 a year to £110,000 a year.
The two sides had been locked in dispute after it was decided the increase should be back-dated to 2004.
Now both the club and council have announced the matter has been resolved.
A football club spokesman said: "We are pleased to see the conclusion of this matter."
'Sensible compromise'
The money will be paid over a six-year period, rather than the four-year timescale previously suggested.
Ipswich Town had previously argued the rent increase should not be back-dated.
Labour councillor David Ellesmere, leader of the authority, said: "Our annual spending is over £100m and £650,000 is an awful lot of money for us.
"There was no way we could back down on that but we obviously wanted to do the best we could for the club.
"They are a huge asset for the town and we've always wanted to work with them as well as we can.
"We are happy. It seems a sensible compromise. We're getting the money we're owed but are not putting any undue pressure on the club."