Woman admits Eyke drink-drive crash which broke child's neck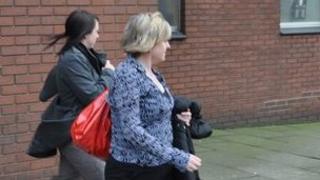 A woman has admitted a drink-driving offence after a car crash in Suffolk that left a seven-year-old girl with a broken neck.
At Ipswich Magistrates' Court, Joanna Cox, 32, of Campsea Ashe, admitted driving over the legal alcohol limit and without due care and attention.
The car hit a bank on the A1152 at Eyke, early on 22 December last year, the court heard.
The girl, who is recovering, had a neck brace and pins fitted in hospital.
Cox, who is due to return to court for sentencing on 7 March, also pleaded guilty to driving with an illegal tyre and to possessing cannabis and cannabis resin.
'One or two beers'
The court heard the VW Golf was left at the scene while Cox walked back to a friend's house with her adult passenger, the seven-year-old and two other children.
An ambulance was then called to take the injured girl to hospital.
The other two children, a boy and a girl, sustained minor injuries.
The court heard Cox had had "one or two beers" before driving and had taken a couple of swigs of vodka at the friend's house after the accident had happened.
District Judge David Cooper disqualified her from driving immediately but said he would wait for a further report on the amount of the alcohol she had drunk, before sentencing her.