St Edmundsbury Cathedral appoints new canon and precentor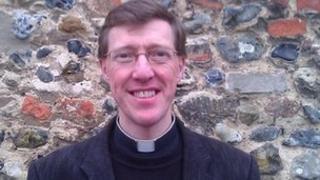 A new man has formally taken up his post to oversee the musical, artistic and liturgical life of Suffolk's cathedral.
Reverend Philip Banks has been installed as residentiary canon and precentor at St Edmundsbury Cathedral, Bury St Edmunds.
He said: "[My role is] somewhere between an air traffic controller and front-of-house manager at a theatre."
Mr Banks previous parish was in Coggeshall, Essex.
He said: "I think cathedrals have often been centres of excellence, not just in terms of music, but places of good preaching, good liturgy and a feeling of a real church family - an inclusive place.
"There's the whole development of the art gallery, the fantastic new organ and millennium development and there will be challenges that lie ahead.
"I won't want to come in and change things until I know how they are working, so the first challenge is to get to know people in the cathedral and the wider diocese."
Mr Banks will have principal oversight of the artistic and liturgical life at the cathedral.
He was installed during a special service of choral evensong on Sunday, 19 February.
He has moved to Bury St Edmunds with his wife Janet and their two young sons.