Wetherspoon pub chain leases Bury St Edmunds Corn Exchange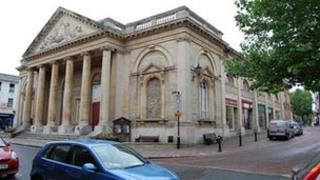 Contracts have now been signed by the pub chain Wetherspoon to lease Bury St Edmunds's Corn Exchange for 30 years.
Planning permission was granted to convert the building in 2010, but the contract with the owners, St Edmundsbury Borough Council, has only just been finalised.
The company aims to start work in March and open a pub in June.
Wetherspoon said it will spend £1.4m redeveloping the top floor which it will rent for £80,000 a year.
Eddie Gershon, a spokesman for Wetherspoon, said: "We have a very good reputation for redeveloping listed buildings - we have about 100 - and we always try and have a fantastic looking outside and do very little to that.
"Inside it is a pub with commissioned artwork and sculptures."
The council decided the Corn Exchange's top floor hall was surplus to requirements after it opened the £18.5m Apex entertainment venue in the town in 2010.
The Corn Exchange's ground floor will continue to be occupied by shops and retail outlets.
John Griffiths, Conservative leader of the council, said: "This is fantastic news for the beautiful, listed building, for council taxpayers and for those who want to see the Corn Exchange opened up again."
Mr Gershon said: "Felixstowe is a town we're looking at, but there's nothing significant at the moment."