Ipswich Hospital hit by vomiting and diarrhoea bug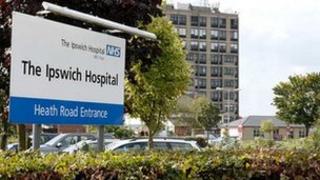 Visitors are being advised to stay away from Ipswich Hospital after an outbreak of vomiting and diarrhoea.
A bug has been discovered in 11 areas of the hospital with two being confirmed as the norovirus.
The hospital said it was confident the bug came from people arriving rather than spreading among existing patients.
Andrew Reed, chief executive of the hospital, said: "People shouldn't visit their loved one unless it's an emergency or they're in critical care."
People are being advised to ring ahead to talk to the ward and discuss whether they should visit or not.
Those who do have to visit are being advised to use soap and water as well as hand gels when entering and leaving wards.
Siobhan Jordan, director of nursing, said: "A number of patients that had the bug were actually coming in to hospital [with it], so I am not concerned that it is our practises that have caused this spread and we're monitoring on a regular basis.
"Because it's across a few wards, what we aim to do is restrict movement in the hospital and in order to do that we must restrict visiting.
"For those visitors that do visit, we will be encouraging them on how to maintain the highest standards of infection prevention and control."
The advice to visitors to stay away will be reviewed on Monday morning.