Suffolk bank raid suspect charged with US identity theft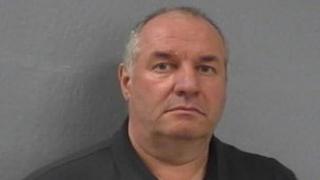 A man wanted for a £1m bank theft in Suffolk in 1993 and arrested in the US has been charged with identity theft and social security offences.
Eddie Maher, 56, originally of Essex, was arrested on immigration and firearms charges in Ozark, Missouri.
About 19 years ago he disappeared after a security van packed with cash was taken from outside a Felixstowe bank.
He now faces additional charges over using his brother's driving licence as an official document to get a job.
On 9 February he appeared at the United States Courthouse in Springfield, Missouri, in a prison jumpsuit when the case was adjourned and he was committed to custody.
The former security guard, who had been living in South Woodham Ferrers when he disappeared, appeared in court on charges of being an illegal alien in possession of four firearms.
Extradition sought
The new charges allege Mr Maher used an illegal social security card as an identification document to get a job.
He has also been charged with aggravated identity theft.
Mr Maher is also accused of using a driver's license in the name of his brother Michael Maher.
These charges are in addition to being an illegal immigrant.
Police in the US said Mr Maher had been arrested after officers received an anonymous tip-off that he was a "fugitive wanted in England".
Since his arrest it has emerged Mr Maher was bankrupt and could not afford a lawyer.
Suffolk Police are looking to start extradition proceedings to bring Mr Maher back to the UK.