St Edmundsbury council Vision 2031 consultation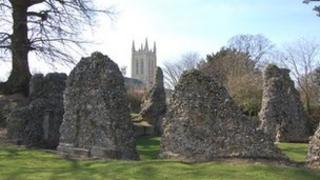 People are being asked to give their views on major development plans for a Suffolk town, including the need for 8,000 homes.
The borough council is holding a consultation on its Vision 2031 documents for Bury St Edmunds, Haverhill and rural areas.
The proposals include the development of housing and the economy.
Council leader John Griffiths said: "Growth must be as appropriate, sensitive and sensible as possible."
Among the options up for discussion are: the West Suffolk Hospital moving to a site at the Westley junction on the A14, improvements to Station Hill in Bury St Edmunds and, in Haverhill, the development of a research park.
The council also said an extra 8,000 houses are needed in the borough.
The consultation closes on 30 April.