Ickworth House recreates Downton Abbey era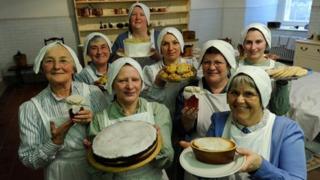 A Suffolk stately home is recreating the era of domestic service with volunteers dressing up as servants.
The National Trust has opened its Ickworth Lives exhibition at Ickworth House near Bury St Edmunds.
Over 20 volunteers are playing the roles of the kitchen staff, housemaids and stewards.
Jonathan Rhodes, project manager, said: "We've drawn on archive photographs, illustrations and particularly the oral evidence of real-life servants."
More than £2m has been spent restoring the basement to how it looked when it was last refurbished in 1910 by the Hervey family, who used to own the estate.
Mr Rhodes said: "The dressing up adds a lot more to it as visitors can see how servants interacted with each other and how the house worked.
'Happy and content'
"People will have seen television programmes such as Downton Abbey and Upstairs, Downstairs, but it's just coincidence and good timing for us, because we started thinking about this project eight years ago."
Margaret Taylor, a volunteer storyteller, said: "When I was being a guide in the rest of the house, I did notice that people were more interested in the domestic side of Ickworth."
The servants' quarters have been reconstructed to include a kitchen, sitting rooms, bedrooms and 13 bells which are connected to upstairs rooms.
The four volunteers playing kitchen staff will be cooking puddings, game and rabbit pies and using seasonal produce grown on the estate.
Anne Ball, who is playing the head cook, said: "The cook is the one who is in complete control and I say that's my only bit of acting - trying to be fierce.
"We don't talk to the visitors, we're almost ghosts who get on with what would have been our jobs and interact with other members of the household."
Ickworth House will have two living history days each month and the National Trust said it had 700 people through the doors on the first day.