Duchess of Cambridge to visit Each hospice in Ipswich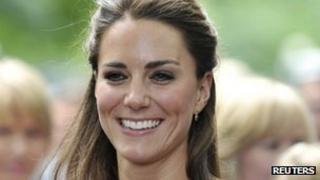 The Duchess of Cambridge is due to make her first public speech when she visits a Suffolk hospice to formally open it.
East Anglia's Children's Hospices (Each) has announced the duchess will be at the new Treehouse in Ipswich on Monday, 19 March.
The hospice, for children with life-limiting conditions, replaced a smaller building and it opened last year after a £3m public appeal.
Each became one of the duchess's four chosen charities in January.
'Crucial' support
Tracie Rennie, director of care at the Treehouse, said: "It's absolutely right that the duchess is going to honour us all by coming to celebrate the hospice, meet some of the donors, supporters and families because hasn't everyone achieved a wonderful thing?"
"She'll walk into the main play area and there will be some activities going on that she will be able to take part in if she wishes to."
Each has three hospices. The other two are in Milton, Cambridge and Quidenham, Norfolk.
Melanie Chew, fundraising director for Each, said: "We're expecting lots of interest in the occasion.
"What we're becoming aware of is that many people across the world take a great interest in what the Duchess does, so her interest in Each, we're hoping, will help shine a light on not just the Treehouse hospice, but hospices across the UK as well.
"People's continued support is really crucial for us in raising £13,000 a day to keep these hospices going."