Fault causes Sizewell B nuclear reactor to shutdown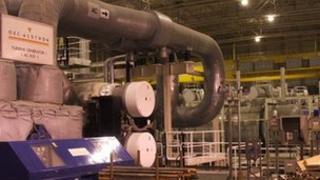 A fault has caused Sizewell B power station's nuclear reactor to shut down, halting electricity generation.
EDF Energy said it was the first unplanned stoppage for three years, after the reactor was tripped by an electrical fault in another part of the Suffolk plant, on Friday.
The company said the shutdown of the reactor took place safely and post-trip procedures operated as expected.
Work is under way to discover the cause of the fault and resume production.
Jim Crawford, station director at Sizewell B, said: "This brings to an end a sequence of 1,120 days since our last unplanned automatic shutdown.
"The response of the staff on duty over the weekend has been exemplary.
"The worked with skill and professionalism to ensure the reactor shut down safely and put all the procedures in place to allow us to begin recovery work to get the station back on line as soon as possible."
EDF Energy said Sizewell produces enough electricity for two million homes or about 3% the UK's electricity needs.