Felixstowe rail freight subsidies offered to hauliers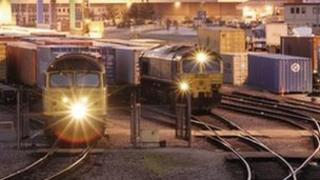 A new incentive scheme is aiming to move 30,000 freight containers off the road and on to the railway at the Port of Felixstowe.
The Haven Gateway Partnership is offering smaller haulage firms 30% of their costs if they use the train.
The partnership estimates firms could receive £75 per container.
Richard Morton, Haven project director, said: "We want to make that process easier and show them it's a potential route for their customers."
The Port of Felixstowe, which is a member of the Haven Gateway Partnership, said it moves 3.4 million standard containers a year.
Of these, about 750,000 go by rail which is 27% of the total.
Carbon taxes
The new scheme, called the Low Carbon Freight Dividend, is funded by the Department for Communities and Local Government and the European Regional Development Fund Programme.
The partnership expects the grants to be used up over the next three years.
Mr Morton said: "A lot of cargo moved by rail is by large companies, and small companies don't tend to do it.
"There are potentially going to be carbon taxes in the future that are going to hit the freight industry and we have got to give some alternatives."
Network Rail is spending £35m upgrading the line between Felixstowe and the Midlands for freight.
The Rail Freight Group estimated that the volume of containers will have more than doubled over the next 20 years.
Lord Tony Berkeley, chairman of the Rail Freight Group, said: "We can't run any more trains from Felixstowe until the new terminal is complete, but it's going to get more people interested in using it and take more containers off the road.
"It'll make a great difference there [on the A14 and A12] and you could argue that you don't need to make so many improvements on those roads.
"If more containers could be carried by rail, then they should go by rail, because of the better road safety and reduced carbon emissions that rail produces."