Charsfield villagers aim to re-open Three Horseshoes pub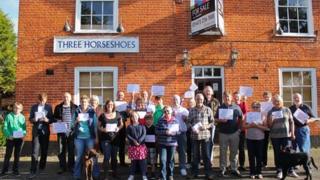 Villagers are trying to raise funds to buy their local Suffolk pub, which is on the market for £289,000.
The Three Horseshoes in Charsfield, closed in May last year leading to the formation of a community benefit society which aims to re-open it.
The society is seeking investors to pledge between £250 and £10,000.
David Wolfe, society chairman, said: "We tested the water last year and got a lot of people who said they would invest. We're optimistic we can do it."
The society was formed by the Friends of The Three Horseshoes (Froth) group.
'Everybody committed'
Once they have bought the pub, the society estimates it would have to spend £60,000 getting it ready and employing a couple to run it.
The society plans to serve food, but not turn it into a gastro-pub, and is considering having a shop attached to the pub.
Mr Wolfe said: "We've got the business figures from the previous tenants and we're confident we can turnover more than [the last tenants] were turning over, not least because it will be a community enterprise and everybody will have stake in it and be more committed to it.
"We're not just relying on people to come through the door and buy beer - some will support us who say 'I never go to the pub, but I want it to exist and I'm prepared to invest to make that happen'."
The society is launching its prospectus for investors on 17 March.