£20m plans unveiled for former Fisons site in Bramford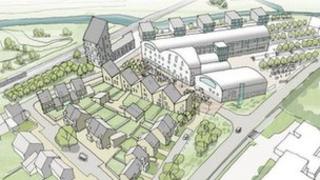 A £20m development featuring a business centre, shops and 130 new homes is being proposed for the former Fisons site in Bramford in Suffolk.
Developer Paper Mill Lane Properties said more than 250 jobs could be created at the complex.
The Grade II listed former Fisons building would make up the business centre, with surrounding warehouses replaced by housing.
A public consultation is under way over the complex, which could open in 2015.
Eamonn Killoughery, managing director of Paper Mill Lane Properties, said: "There is proven demand for small business units in the area, with many businesses looking to be located close to the A14 rather than renting space in central Ipswich."
Fertiliser company Fisons operated from the site from 1858 until 2003.
The public consultation ends on 5 April.