Beth Orton and Turn Brakes to headline Festeaval 2012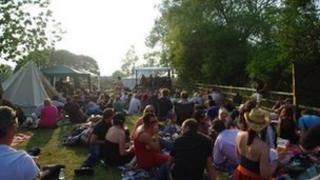 Singer Beth Orton and folk duo Turin Brakes will perform at the Festeaval music festival in Suffolk from 4-7 May.
Orton will headline the Saturday night of the event at the Tea Hut in Woodbridge.
Organiser Peter Hepworth said the Festeaval, in its second year, would include local acts, poetry, magic, Suffolk produce and DJs.
He said: "The best thing about having a festival is I can book my favourite acts to play in my home town."
Last year's inaugural event saw more than 40 acts perform on Mr Hepworth's solar-powered mobile stage, a converted VW campervan.
'Wonderfully attentive'
Ivor Novello winner Scott Matthews and local band The Kabeedies were amongst the acts to play last year.
"I was a bit starstruck meeting Scott Matthews," said Mr Hepworth.
"He played to a wonderfully attentive audience, the sound was lovely, he was a really nice guy - it was fabulous.
"We were lucky enough to break even last year and the feedback we had was so positive we thought we'd try it again, as an upgraded version."
Bastille, Ryan Keen, Kal Lavelle and Kevin Pearce are some of the other musicians to be announced for this year.
"I've tried to encompass the best of the best local acts as well to get a networking thing between the musicians," said Mr Hepworth.
"The ticket prices are a little more expensive this year but it's a reflection of the quality of acts booked."
Day tickets cost from £15 and weekend passes are from £45.