Ipswich Museum bones to help forensic students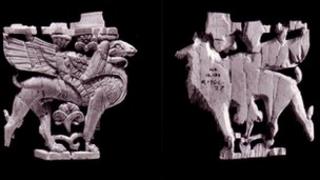 A collection of bones acquired by a Suffolk museum between 1908 and 1973 could be donated to a university for study by forensic biology students.
An audit of bones at Ipswich Museum found that about 60 had only been partially catalogued and staff did not know where they came from.
These bones could now be transferred to Anglia Ruskin University to help train forensic scientists.
The plan has been put forward in a report to Ipswich Borough Council.
Objects from Iraq
A report to the council's executive committee, which meets on Tuesday, says Anglia Ruskin - which is based in Cambridge and Chelmsford - does not at present hold a teaching collection of remains for training forensic scientists.
It also proposes transferring a group of three 8th Century ivory plaques from Iraq to the British Museum, which in May 2011 acquired more than 1,000 complete ivory plaques found in the same area.
Colchester and Ipswich Museum manager Philip Wise says in the report: "The ivories form part of a small collection of objects from Iraq which bear little or no relevance to the museum's collections."
The museum also wants to transfer 10 palaeotlithic or Old Stone Age artefacts found at Creswell Crags in Derbyshire to the Creswell Trust - which has been documenting all the finds at the site.