Ipswich Borough Council agrees to buy art school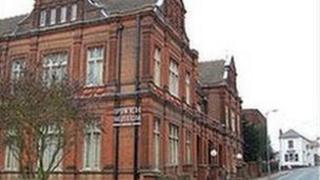 A council has agreed to buy Ipswich Art School as part of a project to create a "cultural quarter" in the town.
Ipswich Borough Council's Executive has voted to pay about £270,000 for the building, which is currently owned by Suffolk New College.
The purchase is part of a project to create a £12m centre with performing and visual arts and a museum.
The council hopes to submit a Heritage Lottery Fund bid for the scheme by the end of the year.
If the application is successful, the project would see Ipswich Museum, Ipswich Art School, New Wolsey Studio and the High Street Exhibition Gallery redeveloped and rebranded as one venue.
The development has yet to be named but has previously been referred to as the 'cultural quarter'.
Artist Maggi Hambling, who studied at the art school and created The Scallop on Aldeburgh beach, is said to be supporting the proposal.
David Ellesmere, leader of the council, said buying the school was part of "building up a jigsaw" ahead of the Heritage Lottery application to redevelop the site.
"The centre will be a great cultural and economic asset for Ipswich," he said.
"We hope it will be a major attraction to bring lots more people into the town."