River Waveney Association aims to keep river clean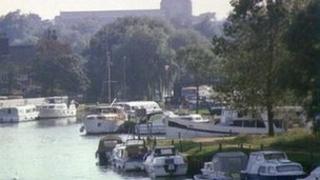 Volunteers are pulling together to clean the River Waveney, on the Norfolk/Suffolk border, after 20 sacks full of rubbish were collected from it.
Geoff Doggett has co-founded the River Waveney Association and hopes it will become a charitable trust by June.
He said he vowed to help with a clean-up after coming across rubbish at Diss, Norfolk, while on a canoe trip in 2008.
"We were pretty shocked to find the state of the river," he said. "We are determined to do something about it."
Further inspiration arrived in December when the Diss River Care Group collected the 20 bags of rubbish from a section of the river.
That group is now up to 32 members and Mr Doggett said he wanted to replicate its success along the Waveney.
'Eyes and ears'
"What we'd really like to do is see similar groups, perhaps based around the four towns - the next one is Harleston, where I live, and then Bungay and Beccles," he said.
"If we can get groups of volunteers working in those we will have a wonderful start to keep the river not just clear of litter, but we're conscious that there are pollutants and the general state of the river is not good for anglers, fish, and birds."
Mr Doggett said the trust would become the "eyes and ears of the river" but would depend on the co-operation of farmers and owners of water mills.
"We want to become a nice transparent debating place working on these issues," he said.
The Environment Agency said it supported the idea of establishing a trust for the Waveney.
A spokesperson said: "We have already done a lot to improve the River Waveney but are really keen to help people with ideas to enhance the river further."