Couple delighted to see stolen sign returned to Walberswick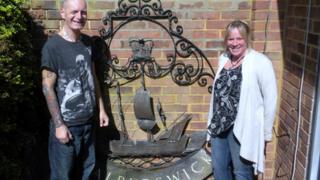 The couple responsible for reuniting Walberswick with its stolen village sign have said they "can't wait" to see it back on display.
Kent residents Lea and Philip Newstead bought the sculpture for £180 in the mid 1990s but only realised Walberswick was a real place about two years ago.
Mrs Newstead said: "There was no question it wouldn't be returned - it's where the sign belongs."
The couple had bought the sign when they were living in south-east London.
Mrs Newstead said she had been offered it by a neighbour who was moving house and knew she liked "odd things in the garden".
"We thought it was a copy but did want to find out about it," she said.
Garden ornament
The sign had been erected in Walberswick in 1953 to commemorate the coronation of Queen Elizabeth II, but it was stolen in the 1980s.
Absent of its wooden stand, the sign had been displayed as an ornament in the Newsteads' garden.
Mrs Newstead said: "If we had known it had been stolen, or if we'd even known about Walberswick before, it would have gone back a long time ago.
"People had offered us money to buy the sign and we kept saying no because we'd never researched it to find out if it was real or not."
The couple, who now live in Allhallows in Kent, were on their way to Norfolk for a holiday when they saw a road sign for Walberswick.
They turned off to visit the village, where a smaller replacement sign had since been erected.
"That's what convinced us that this must be a real sign - because it was so similar, apart from the fact that our one is about 5ft tall and 5ft wide," Mrs Newstead said.
They contacted the parish council on their return from holiday and offered to give the sign back to the village.
"Everything about that sign belongs to Walberswick," she said.
"It was a local artist, the ship was originally built there, so it had go home."
The couple are attending the unveiling of the restored sign on 2 June.