Appeal after woman, 84, hurt in Sudbury hit and run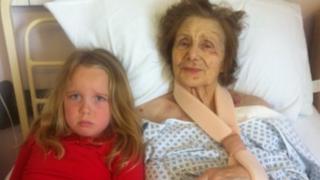 The son of an 84-year-old Suffolk woman hurt in a hit and run incident has called on the driver to come forward.
Donna Rumsey had been feeding ducks at Brundon Mill in Sudbury with her granddaughter Olivia when she was hit by a vehicle on Monday.
Ms Rumsey's son, John Rumsey, said his mother suffered a broken collar bone and bruising all over her body.
Mr Rumsey said he wanted the driver to "own up, come forward and face up to what has happened".
He said: "Accidents happen, but to hit and run on an 84-year-old and a six-year-old child is the lowest of the low."
'Awful state'
His wife Jane had gone to collect Olivia from Ms Rumsey's house and headed to the mill after she was unable to contact her on the house phone.
Mr Rumsey said she found Ms Rumsey laying in the middle of a bridge, with her granddaughter "holding her hand, crying".
"Fortunately some of the local people had got blankets and put them over my mum but she was in an awful state," he said.
"We're thanking God my daughter wasn't hit because she could have fallen down to the water and that driver would have driven off.
"So in a way we're counting our lucky stars as it could have been worse."
Mr Rumsey said his mother was expected to remain at West Suffolk hospital until the weekend.
Suffolk Police said they believe two people may have been in the vehicle, which is described as a maroon or red car or van.