Open verdict at Ipswich building site remains inquest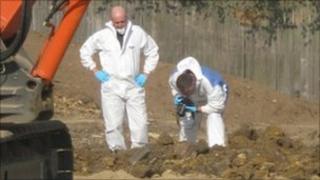 An open verdict has been recorded at an inquest into the death of a man whose remains were found at a building site in Ipswich last October.
Walter French was 65 when he was reported missing in July 1986.
A rusty shotgun was found near his skeletal remains on Valley Road, but pathologists said there was no evidence of fractures to the bones.
Mr French left a note about his affairs being in order, but the Suffolk coroner said suicide could not be proven.
Det Insp Kevin Hayward outlined the history of the case at the inquest in Ipswich.
He said a rusty Baikal double-barrelled shotgun with a spent cartridge and decomposed clothing were found in old concrete footings on the overgrown waste ground.
Handwritten note
Mr French's identity was confirmed using DNA samples from his two daughters.
The pathologist said there was no evidence of the injuries they would expect with a shooting and it was not possible to exclude a conclusion of natural causes.
Mr Hayward told the court that Mr French had a stomach ulcer and gallstones, but he "did not enjoy visiting medical professionals and avoided them".
The court heard he was depressed about his health and may have missed a hospital appointment.
He left a handwritten note at the family home in Kensington Road, Ipswich, which read: "All my affairs are in order, take care, stay close, love Nige", which was his nickname.
Coroner Peter Dean said: "He may have left home with the intention of self-harm, but there is no evidence of a discharged shotgun.
"We can't rule out a natural event. A verdict of suicide must be proven beyond reasonable doubt and we still have the unanswerable question of what the cause of death was.
"A suicide verdict is not to be presumed, so the only verdict to return is an open verdict."
In a statement after the hearing Mr French's family said: "After 25 years, we are relieved that we have been able to resolve the disappearance of our father and finally lay him to rest.
"We would like to take this opportunity to thank the Suffolk Constabulary for their sensitivity in dealing with the issues raised and the support which they have given our family throughout."