Ipswich Hospital investigates ISS cleaning practices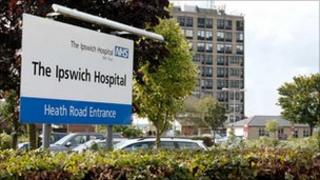 Managers are formally investigating cleaning practices at Ipswich Hospital following complaints about a shortage of cleaning products.
The hospital said the concerns had been raised by contract staff working for the support services company ISS.
ISS has had the cleaning contract at the hospital for two years.
The hospital said senior managers from the hospital and the cleaning company had already made initial inspections.
Cath Gorman, Ipswich Hospital's associate director of nursing and quality, said: "A safe and clean hospital is our top priority.
"We have already launched a formal investigation and are speaking to, and working with senior ISS managers to establish the facts and to ensure ISS staff know how they can raise concerns immediately."
ISS employs 453 people at the hospital working in support service roles including cleaners, porters and security staff.
A spokesperson for ISS said: "The investigation into the allegations of chemical shortages has concluded that the hospital has a plentiful supply of cleaning equipment and chemicals.
"Individual store cupboards may run low, in which case cleaners are instructed to ask their supervisor to request more from our central stores.
"We have reminded staff of this, but can find no evidence of chemicals running out.
"Similarly, we have reviewed all of our cleaning records with the trust and can find absolutely no evidence that standards have slipped at all."