Ipswich Borough Council elections and the local economy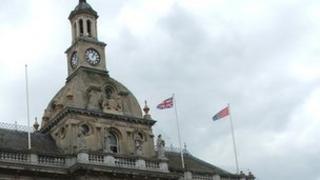 The economic development of Ipswich is central to the three major parties' election campaigns as a third of seats are up for grabs in the borough council elections on Thursday, 3 May.
After a period of unbroken control between 1979 and 2004, Labour lost control to a Conservative and Liberal Democrat alliance, but regained power in May 2011.
The Suffolk Chamber of Commerce said the county town needs to see itself as part of a wider county economy.
Peter Funnell, president of the chamber, said the town could benefit from investment at Sizewell C and coastal wind farms.
But he added that small businesses were the backbone of Suffolk's economy and politicians needed to help them grow.
"We have to develop our information, communications and technology sector and one of the key developments has been the creation of University Campus Suffolk and, in the skills context, the enormous investment in Suffolk New College.
"I don't think it's about one or two very large businesses coming in and revolutionising the economy, it's about a mix of activities which encourage business start-ups, support businesses to grow, look for inward investment and at developments outside the Ipswich boundary and take advantage of those.
Public skills fund
"The key here is a greater recognition of closer working between private and public sector."
Labour said it has introduced two major policies - a £1.5m public skills fund and a £5m a year programme to start building council homes again starting with 120 family homes at Bader Close in the Priory Heath area.
David Ellesmere, the Labour leader of the council, said: "We're also investing in an increased marketing budget to try and attract people in to Ipswich.
"There are still employers who do want to come into Ipswich and expand but all of this is being done against the background of pretty bad economic situation which is being engineered by the government."
John Carnell, leader of the Conservative group, said: "We recognise that Ipswich is over-dependent on public service jobs and we want to encourage private sector investment so that we broaden the base of the economic structure.
"It's important that we look at the high tech end of manufacturing, BT at Martlesham is an excellent example, because I don't think we're ever going to be able to compete with the low wage Asian countries at the lower tech end.
"It was our administration that set up an inward investment officer [with the Ipswich Central business umbrella organisation] and working with the expertise in the private sector is the way forward."
'Knowledge' economy
Richard Atkins, the deputy leader of the Liberal Democrat group, said: "Trying to create a future for anywhere in western Europe for manufacturing is a tough one, just because of the low cost of labour in Asia.
"If it's part of the 'knowledge' economy then there is a potential for manufacture, but it's going to be specialised in those sorts of [high tech] areas.
"There is lot of potential for those companies who don't want to pay the cost of rents in London to have their staff in Ipswich."
There are currently 28 Labour councillors, 14 Conservatives, five Liberal Democrats and one vacant seat.
Voting will take place for one seat in each of the borough's 16 wards, with an extra seat in the Bixley ward to fill a vacancy.
Of the non-vacant seats up for election, eight are currently held by Labour, six are Conservative and two are Liberal Democrat.