River Deben levels recover after April rain in Suffolk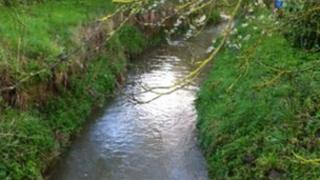 A drought-hit Suffolk river has made a recovery following the April rain.
In March, the level of the River Deben was very low near its source at Debenham but it is now 1ft (0.3m) deep.
The Environment Agency had previously said it was the river most at risk of drying up in East Anglia.
Ian Pearson, drought co-ordinator for the agency, said: "We've had about twice the rainfall we'd expect in April, but it won't make a difference unless it continues."
The agency said it was good news for wildlife and farmers were not having to abstract any water at the moment.
Mr Pearson said: "Clearly the rivers are responding very well.
"The reason we've got the drought is because of sustained lack of rainfall over two years.
"The levels of water in the underground aquifers [pockets of stored water] are so low it will take an average rainfall for the rest of the calendar year to bring those back up to normal levels."
The agency said an average rainfall in the summer should also keep the River Deben at its current level.