Islamic charity seeks support for fire-hit church project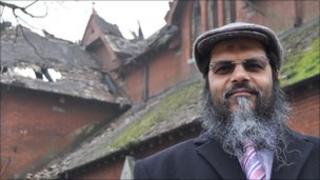 A Muslim group has urged the whole community to become involved in the rebuilding of an Ipswich church that was damaged by fire.
The Islamic charity Jimas needs £500,000 to convert St Michael's Church into a community centre.
Jimas said it wanted the centre to be used by a range of groups, not just Muslims.
The roof of the derelict church, on Upper Orwell Street, was destroyed in March 2011.
Jimas had already bought the building, but the fire added an estimated £200,000 to the cost of the project.
The charity said it wanted support from non-Muslim groups which would help it with fundraising and with getting planning consent for the listed Victorian building.
Manwar Ali, chief executive of Jimas, said: "The entire community should feel empowered to come forward.
'Democratic citizenship'
"There are those who might feel awkward liaising with Muslims, such as Jewish or Lesbian, Gay, Bisexual and Transgender (LGBT) groups, but we're open to discussions with everyone based on the principle of democratic citizenship, and these groups might want to use the centre when it's built.
"I think Jimas can raise £30,000-50,000 a year and with some matched fundraising, we could have the money in five years."
Jimas held a project meeting at Suffolk New College with other organisations including Christians, Buddhists, refugee groups and heritage bodies.
David Williams, chairman of the Suffolk LGBT Network, said: "Jimas have a huge vision here of equality, diversity and togetherness and I think that we can learn from the fact that Jimas have put their hands in their own pockets."
Jimas aims to put a temporary roof on the church by the end of 2013.