Cutty Sark restoration an 'honour and a joy'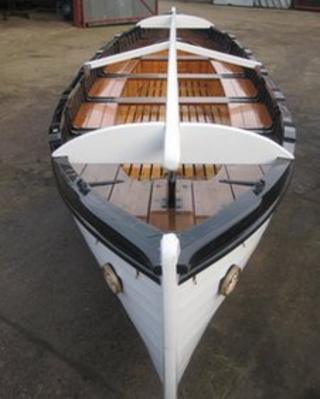 A Suffolk craftsman has spoken of his pride at being involved in the restoration of the Cutty Sark.
Charles Le Sauvage spent six months restoring two lifeboats for the 19th Century tea clipper, which was almost completely destroyed by fire in 2007.
The lifeboats had already been removed from the ship but were damaged by rot.
Mr Le Sauvage, who restored the boats at his workshop near Framlingham, said: "It was an honour and a joy to work on the project."
He said the upper stem and the planks were badly damaged.
"The majority of the work was stripping it back to bare wood, repainting and applying wood preserver to the inside and revarnishing all the inside," said Mr Le Sauvage.
Another Suffolk man, Hugh Leeper, produced canvases for the restored Cutty Sark.
"It was a nice job to work on, especially learning the history of the boat as we went along," said Mr Leeper, who is also based near Framlingham.
"We made covers for the poop deck, two of the lifeboats, the captain's gig, the hatches and the bilge pumps."
He said another cover had been made especially for the Queen's visit.
"It was supposed to be for the Queen to stand under when she opened the ship," he said.
"It was set up on the top of the deck but it was a bit drafty up there."
The Cutty Sark restoration project cost £50m.
Mr Leeper said: "It gives you a sense of achievement to think that you've been involved in something like that and nice to know that so many people are going to see it."