Sizewell B unveils plans for emergency response centre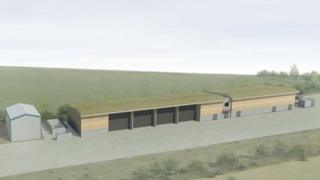 Plans for an emergency response centre at the Sizewell B nuclear power station in Suffolk have been unveiled.
The centre will house back-up equipment including generators and be built a mile away from the power station, next to Sizewell Sports and Social Club.
Operator EDF Energy said the facility would provide storage and office space which could be used in an emergency.
Martin Cubitt, Sizewell B safety manager, said: "Safety is, and always has been, our over-riding priority."
He said that "key safety measures" were already in place to cope with earthquakes and flooding.
The plans will be submitted following a three-week public consultation.