Blockbuster robbery in Ipswich: Machete-raid pair detained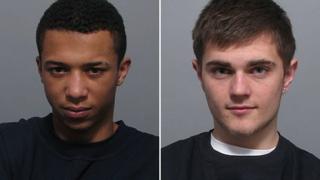 Two teenagers have been detained for three years for a machete raid on a film rental store in Ipswich.
Money was stolen and a member of staff was threatened at Blockbuster on Woodbridge Road in June 2011.
Howard Battiste, 18, and Ousman Barry, 17, both from Trimley St Mary, admitted robbery and will be detained in a young offenders institution.
The judge at Ipswich Crown Court lifted reporting restrictions on identifying the pair.
The police said no-one had been hurt during the raid but a worker had been threatened with the weapon and left shaken by the incident.
A three-figure sum of money was taken.
A man and a girl, who were also arrested, were released without charge.