History of Ipswich's St Clement's Hospital captured in play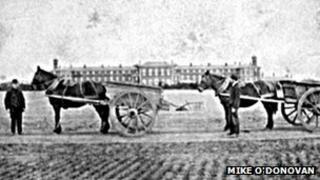 A Suffolk theatre company is to stage a play in a former mental health hospital before the buildings are sold off.
Red Rose Chain will perform Different Buttons at St Clement's Hospital, in Ipswich.
It will explore the changes in the treatment of mental illness since the site opened as the Ipswich Borough Lunatic Asylum, in 1870.
The NHS is seeking outline planning permission for housing before it tries to sell the site.
The play features five fictional characters from different periods of the hospital's history.
An oral history project, featuring former workers and patients, has been used to inform the writing.
Humour and lightness
Jo Carrick, Red Rose's writer and director, said: "There will obviously be resonances with One Flew Over the Cuckoo's Nest, a film which had fantastic ensemble acting, but hopefully this is a piece for our time.
"There are some very sad stories, but also some very inspiring stories about compassion and all human experience has moments of humour and lightness - one of the characters thinks he's the King of Ipswich for example.
"Before the 1960s, there was very little treatment that you could give to people and then drug treatment came in which completely revolutionised mental health."
The NHS plans to sell off its St Clement's Hospital buildings and land, while the site would retain some residential homes for patients, who are not ready to return to the community, and also the Foxhall House secure unit, for people referred there from the criminal justice system.
The Woodlands unit was opened in 2011 at nearby Ipswich Hospital to treat acute mental health patients.
Maggie Wheeler, chair of Norfolk & Suffolk NHS Foundation Trust, said: "We now try to treat people with mental illnesses where they live rather than in large hospitals, so we've come to the point where we no longer need the St Clement's building.
Fresh air
"Those asylums were opened with a humane intent out in the countryside with fresh air and open space and we need to remember their place in our history.
"Some of practices and the way people with mental illness were treated were not great, but that's all changed.
"The play is a way of closing the building, while honouring and respecting the past and saying we've moved on and it's right we've moved on."
The play will be staged in the Library at St Clement's Hospital, which was originally the chapel.
Ms Carrick said: "It's a great space to work in and very useful for the actors to be in the real place to evoke the characters."
The NHS said the golf course and sports club would remain at the St Clement's site, although the sports pitches may have to be moved as part of any development.