New commissioner will 'politicise' Suffolk Police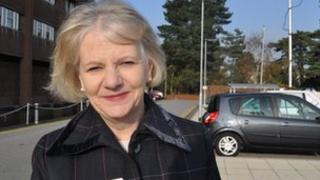 Suffolk Police will be "politicised" by the introduction of a police and crime commissioner, says a group which represents rank and file officers.
Matt Gould, chairman of Suffolk Police Federation, said Suffolk Police Authority currently held the force to account "without political allegiance".
The new commissioner will be voted in to replace the authority in November.
David Ruffley, MP for Bury St Edmunds, said the role would improve relations between police and the public.
"David Cameron said we need a closer link between the public and the people who oversee the police to improve the link between the public and the police," said Mr Ruffley.
"We do that by having a directly elected individual.
"There will be a protection against over politicisation because there will be a new Police and Crime Panel which will have mixed political representation."
'Ipswich-centric'
The public will vote on 15 November, with the new commissioner starting work a week later.
The Labour party has already announced its two candidates - Jane Basham, former chief executive of Ipswich and Suffolk Council for Racial Equality, and former chief superintendent Tim Beach.
The Conservatives are gathering nominations and the Liberal Democrats said they probably would not field a candidate.
Mr Gould said the National Police Federation was not supportive of the introduction of a commissioner, whose responsibilities will include setting the police budget, holding the force to account and appointing the chief constable.
"It's a role I don't think anybody has actually asked for," he said. "I don't think the public want it."
Mr Gould said one of the strengths of the current authority was that its 17 members were from across the county and included councillors from different political parties.
"With a police and crime commissioner you've got one person and they're not going to be working out from Beccles, they're more likely to be in Ipswich where the centre of the population is.
"They're going to be Ipswich-centric."
Joanna Spicer, chairman of the Suffolk Police Authority and Conservative county councillor, said this would not be a problem.
However, she said she had concerns about the complexity of the role and a lack of funding.
"Politicians, and I am one, quite like to get good headlines and policing isn't as simple as that," she said.
"I'm quite sure that incoming police and crime commissioners will want to make changes but the problem is a lot of those are going to cost money and we're in pretty tough times financially."