Sizewell nuclear power visitor centre plans submitted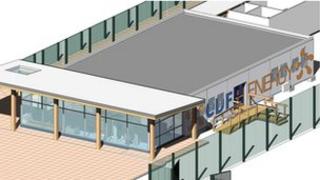 Sizewell nuclear power station has applied for planning permission to open a visitor centre on the Suffolk coast.
The old one was closed after the 2001 terrorist attacks in the USA.
EDF Energy, which owns Sizewell B, said it hoped to have the temporary visitor centre open by the end of summer.
Jim Crawford, Sizewell B director, said: "We know there is public interest in nuclear power, because of the weight of requests we receive from groups wanting to visit."
The temporary centre would be based in an existing cabin to the north of the Sizewell B site and it would have a glazed extension built on it.
The power company said it expects to attract 7,000-10,000 visitors a year, mainly made up of school children.
Suffolk Coastal District Council will consider the planning application.
The company said the temporary centre will be used for about four years while it creates a permanent purpose-built centre.