Work begins on Great Blakenham waste incinerator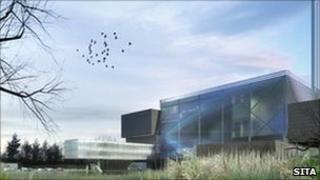 Work has begun on a £185m waste incinerator in Suffolk.
Private company Sita says the facility at Great Blakenham will burn 269,000 tonnes of rubbish annually and generate enough electricity for 30,000 homes.
But Shirley Fairburn, chairman of Great Blakenham Parish Council, says the building and the increased traffic will spoil the village.
"It's going to be an absolute eyesore on the horizon in a very pretty part of the country," she said.
The incinerator is expected to start operating at the end of 2014.
'Cost effective'
Great Blakenham is also the proposed location for the planned £320m winter sports complex, SnOasis.
"Great Blakenham has an enormous amount of building work going on at the moment," said Ms Fairburn.
"It's spoiling the village completely."
Suffolk County Council, which approved the plans, says the facility will be cheaper than putting waste to landfill and will also provide jobs.
Lisa Chambers, portfolio holder for waste, said: "It's the most cost effective and most efficient way of us dealing with waste for the next 25 years in Suffolk."
Addressing concerns of residents, Ms Chambers said she would be "more than happy" to live next door to the site.
"It is an extremely clean process and is extremely carefully monitored," she said.