Woodbridge campaign for derelict Whisstocks boatyard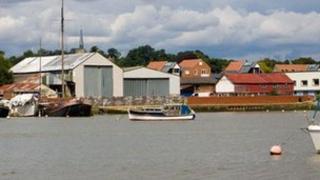 Campaigners want to buy a derelict boatyard in Suffolk and turn it into a community facility to provide jobs and training.
The Woodbridge Riverside Trust is asking the local council to back its plans for the Whisstocks boatyard, which has been empty for 16 years.
It plans to use it to teach heritage boat building and repair skills.
The trust is presenting its case to Suffolk Coastal District Council on 24 May.
The trust said it wants to set up a community interest company to run the boatyard and has more than 1,500 signatures on a petition backing its Whisstocks Project.
Malcolm Hodd, project leader, said: "If you go back 16 years it was a workplace launching boats, so we've gone from a vibrant waterfront to a pretty sterile and depressing area which every visitor to the refurbished Tide Mill has to walk past.
Community activity
"There are a lot of people in Woodbridge who would like to put money forward and the community itself would own the site.
"Some quite wealthy people and educational institutions have suggested they would like to get involved.
"What we're hoping is the council will reaffirm their aims to have community activity on the site."
The project said it can create 37 jobs at the boatyard with 100 apprenticeship and training places a year.
The boatyard and the neighbouring Nunn's Mill site were bought by Whisstocks Development Limited for £1.6m in 2004.
Julian Wells, a director at FW Properties, the agent for the site owner, said: "FW Properties will continue to discuss this opportunity with the Woodbridge Riverside Trust going forward."