Ipswich's St Jude's Brewery closes pubs and stops making beer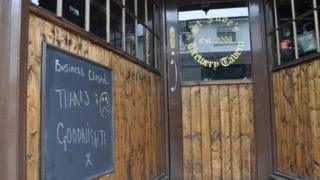 A Suffolk micro brewery has closed its two pubs and is to stop making beer.
St Jude's Brewery started brewing real ale in 2006 and opened its first pub in Ipswich in February 2011. An outlet opened in Felixstowe in December.
The brewery was run by Frank and Colleen Walsh, from their home in Cardigan Street, Ipswich.
Mr Walsh said it had been hard to compete with supermarkets and people were tending to go out less in a bid to save money.
"There was a slight down turn in trade but people don't have the money to go out," he said.
"Beer duty rose again for brewers, supermarkets are going into real ale and people are drinking before they go out.
"Where we used to see regulars three or four times a week it became once a week."
Mr Walsh said he had seen supermarkets selling 24 cans of beer for £12 - whereas a pint of beer in St Jude's pubs cost about £2.50.
He also explained he had been told by his doctor that he had a "strained heart".
"It was all getting too much," he said. "I was working six to seven days a week.
"I want to take the quiet life for a while."