ASA ends Live and Unsigned investigation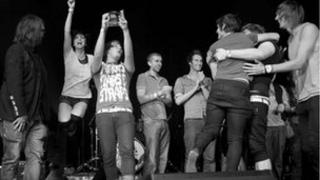 A national talent contest is to face no further action from an investigation into claims of false advertising.
Live and Unsigned was probed by the Advertising Standards Authority (ASA) following a complaint from Ipswich-band Underline the Sky.
The ASA said the band's complaint that they did not receive competition prizes from 2010 was too old to investigate.
A spokesperson for Live and Unsigned said: "We were never in doubt that there was an issue."
The contest is billed as the "UK's largest competition for original music" and claims to attract more than 40,000 entries per year.
Underline the Sky won the rock category of the competition but said they did not receive the advertised prizes including playing a festival in India and an amplifier.
'Minor win'
Live and Unsigned said it had offered alternative prizes to the band but these had been declined.
"We can now continue with giving artists opportunities that are very difficult to come by in the music industry," the spokesperson for Live and Unsigned said.
The ASA said it could only investigate advertising which had appeared within the past three months.
It had instead looked at prizes offered by Live and Unsigned for its 2012 competition and said it was "too early to tell whether or not those prizes have been substantiated".
A spokesperson said: "We are not currently in a position to issue a ruling either upholding, or not upholding the complaint we received.
"If, once the competition closes, we were to receive complaints regarding the delivery of advertised prizes, we would reassess those complaints."
Underline the Sky drummer James Hicks said the band were "disappointed with the investigation".
"We hope that we've rattled a few bones," he said.
"If we can make people a bit more wary of it, it's a minor win."