Man guilty of Thurlow Champness jewellery armed robbery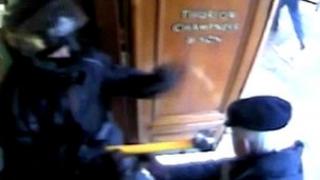 A man has been found guilty of an armed robbery at a Suffolk jewellers which was foiled by a member of the public.
Four men with sledgehammers raided Thurlow Champness jewellers on Abbeygate Street, in Bury St Edmunds, on 28 February, 2011.
They were challenged by a 71-year-old man, who was threatened but managed to grab their bag of jewellery.
Dwayne Marsh, 34, of Islington, north London, had denied conspiracy to commit robbery at Ipswich Crown Court.
He was convicted following a three-day trial.
Three other men had already admitted charges and are due to be sentenced with Marsh, of Dewey Road, at a later date.
During the robbery, pensioner Michael Graver tried to push one of the robbers off his motorcycle and later followed them into the jewellers.
He tried to tackle them, but the men, armed with sledgehammers, turned on him and pushed him away.
Mr Graver then chased them down the street, trying to hit them with the bag.
Mark Baker, a shop worker, also tried to stop the robbers and managed to get hold of the bag of watches they had taken and returned them.
Following the robbery, Mr Graver told the BBC: "I ran into the shop to see what was going on. I wasn't aware there was anybody holding a sledgehammer.
"I did then see the man with the sledgehammer. He looked at me. I looked at him. I didn't really feel threatened.
"I didn't feel he was going to smash my head in. He wanted to get out."