Free Jubilee Bibles and food at Bury St Edmunds' Arc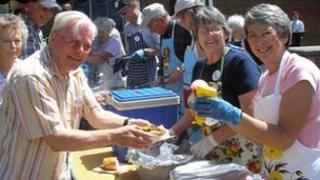 A group of churches is giving away free 'Jubilee Bibles' and burgers at a Suffolk shopping centre.
Volunteers will be at The Arc in Bury St Edmunds at lunch times from Wednesday to Saturday.
Reverend Robert Green, Baptist minister, said people are "cautious" when offered free gifts.
He said: "However, there are absolutely no strings attached to this, but if they want to sit and chat, then the door's wide open for that."
The Bury group of about a dozen churches of various denominations will have about 200 special editions of the New Testament.
Mr Green, who is from Garland Street Baptist Church, said: "The Queen is a key figure in the wider Christian church in the UK, so it's only fitting to produce a Bible that recognises her contribution to church life over 60 years.
"We have given away food before in Bury St Edmunds in 2009, so it's a kind of comeback and a way to celebrate the Jubilee."
The Jubilee edition of the New Testament features a union jack or royal crest cover and has been produced by the Bible publishers Biblica in conjunction with the Church of England.