Ken Sykora biopic The Man With The Jazz Guitar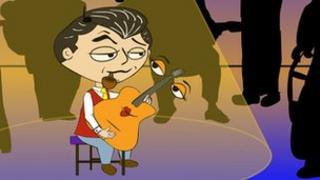 Fans of a jazz guitarist who is credited with inspiring generations of musicians are hoping a new biopic will raise his profile.
The Man With The Jazz Guitar looks at Ken Sykora's career with the BBC and his life in Suffolk and west Scotland.
Sykora (1923-2006) presented Guitar Club on national radio in the 1950s and 1960s among many other programmes.
The film has a cinema release and features tributes from family, friends and admirers.
Linda Chirrey, the film's producer, said: "What drew us to the project was this idea that just because someone's not remembered, it doesn't mean the quality of their work is any less valid.
"It wasn't about being famous - it was about doing what he loved and sharing it with people.
Pub sessions
"There was virtually no footage of Ken, so I created an animated version which I think helps to bring his character to life, although there's a lot of recordings of his voice and playing from his radio programmes."
The production company was using some of Sykora's music in another film and became interested in the story of the son of a Czech cavalry officer who became a part of the post-war UK jazz scene and presented on the BBC Light Programme as well as Radios One, Two, Three and Four.
Ipswich Jazz Club's Brian Peck remembers hearing the radio shows.
"A neighbour of mine used to play guitar with Ken at jam sessions at The Compasses pub in Holbrook [near Ipswich] and that was my introduction to him as a teenager.
"Like Bert Weedon, Ken nurtured the interest in guitar playing in Britain through the BBC programmes which would have been listened to by generations of jazz, pop and rock guitarists and he deserves this film and wider recognition."
The film features scenes shot in Holbrook and Pin Mill in Suffolk and on the Kyles of Bute in west Scotland where he moved in 1971.
Alison Sykora, Ken's daughter who features in the film, said: "He was really respected in radio at a time when radio was really the main form of entertainment.
"Guitar Club brought together fantastic guitarists from different styles - Davy Graham, Cat Stevens, John Williams and Eric Clapton - but the BBC didn't archive everything so a lot of the things in the movie come from Dad's own archives.
"My dad was very, very good at what he did and I think [the film] is a lovely reflection of that, but for people who aren't so interested in the music, it's a great thing to look at if you're just interested in the 1950s and 1960s."